Solana Beach Art & Frame
Welcome to Solana Beach Art & Frame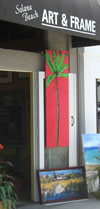 You'll find us on the north end of the exciting and eclectic Cedros Design District, where we've been since 1992. We have a fantastic selection of fine art and prints, and a vast array of beautiful mouldings to suit every style of artwork. With our on-site frame shop, we strive for our clients' satisfaction and enjoyment of their art, with professional design and installation and high-quality craftsmanship and materials.
We're conveniently located near the corner of Cedros Ave and Lomas Santa Fe, with parking behind the gallery.
Our services:
Custom-designed mirrors
Closed-corner frames
Sports memorabilia display
Fine art and prints
Photo framing
Professional art installation
Visit us today!
We're open Monday through Saturday from 10 to 5 and Sundays by appointment. Print our coupon for a discount on your framing order.

Emmy welcomes all pet pals!
Solana Beach Art & Frame 111 S Cedros Ave #300 Solana Beach, CA 92075
(858) 793 1343
ct-sbaf@sbcglobal.net
Hours 10-5 Mon-Sat
© Copyright 2009 Solana Beach Art & Frame. All Rights Reserved.
Seaside Web Design